Keep up to date with the most current happenings at St. Kilian's through social media. Follow us on Facebook or Twitter or sign up to our newsletter below!
In the lead up to St. Patrick's Day this weekend and to mark Seachtain na Gaeilge, many activities to celebrate Irish culture and language took place in St. Kilian's. Kindergarten & Primary School children enjoyed the annual St. Patrick's Assembly with songs, plays and music all in Irish and a wonderful demonstration of Irish Dancing by our own Dora from 9th Class. 4th Class parents and children had lots of fun practising their Irish dancing skills with dance teacher Louise D'Arcy on two mornings. Some 12th class students organised a charity fundraiser during break time and offered free face paint for our Lá Glas (Green Day). TY students took part in a short event to commemorate the original unfurling of the tricolour 170 years ago by Thomas F. Meagher and to learn about the history of the flag. And later in the afternoon, our 7th Class students got a surprise visit by St. Patrick and Leprechaun. Both were up for a chat and answered most of the questions. Happy St. Patrick's Day and a lovely bank holiday weekend.

☘️☘️☘️

Es herrschte eine festliche St. Patrick's Day Atmosphäre in St. Kilian's. Die Kinder genossen eine St. Patrick's Assembly mit Liedern, Theaterstücken und Musik in irischer Sprache und einer wunderbaren Vorführung des irischen Tanzes durch Dora aus der 9. Die Eltern und Kinder der 4. Klasse hatten viel Spaß beim Üben ihrer irischen Tanzkünste mit Tanzlehrerin Louise D'Arcy. Einige Schüler der 12. Klasse organisierten in der Pause eine Spendenaktion für wohltätige Zwecke und boten kostenloses Schminken an. Die TY-Schüler nahmen an einer kurzen Veranstaltung teil, um der ursprünglichen Entfaltung der Trikolore vor 170 Jahren durch Thomas F. Meagher zu gedenken. Und später am Nachmittag bekamen unsere Schüler der 7. Klasse einen Überraschungsbesuch von St. Patrick und Leprechaun.

#seachtainnageilge
#StPatricksDay2023 St Kilian's Deutsche Schule ... See MoreSee Less
Lovely pictures! Happy St Patrickstag 🍀🍀🍀
Load more

Happy St. Patrick's Day and a wonderful bank holiday weekend. #seachtainnageilge #stpatricksday2023 @StKiliansDS @KiliansKG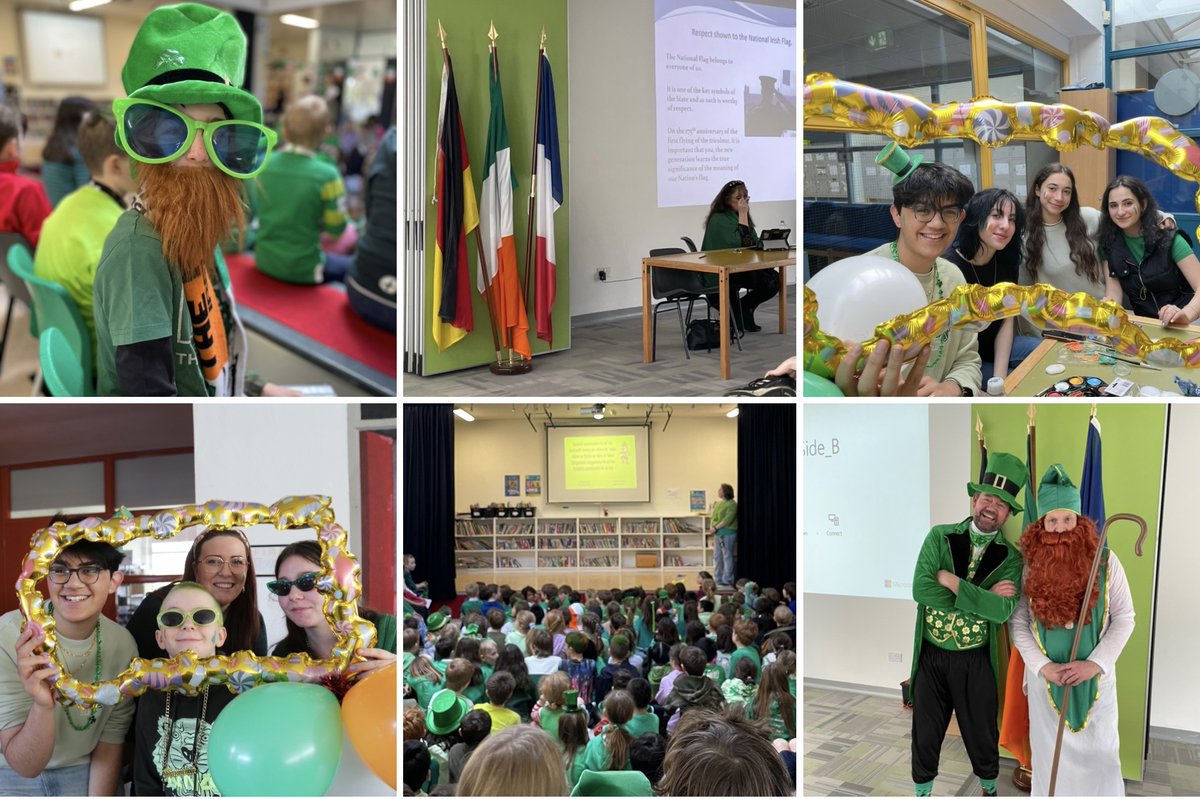 @StKiliansDS Primary School climbers gave a wonderful account of themselves at the #IrishPrimarySchoolsClimbing Competition. Once again our team spirit shone through. Encouraging words, motivational calls & team work was excellent from every member of the team. Well done to all!

4A Class children & parents were practising their Irish dancing skills this morning. Thanks to Ms D'Arcy for the workshop & to Dora from 9th Class for an amazing performance & to parents & teachers who joined in for some 'craic agus ceoil'. #seachtainnagaeilge☘️@StKiliansDS